The Basix
• name Holly
• age 20
• scene (location if you will) Toronto, Ontario
• sexual orientation Straight
• favourite bands Oi Polloi, Cocksparrer, 4Skins, the Business, The Beatles, The Clash
• favourite movies Lock, Stock and Two Smoking Barrels, Hard Core Logo, Boondock Saints, Trainspotting
• favourite books Glue by Irvine Welsh, Human Punk, by John King, This All Happened by Micheal Winter
• favourite colors Bright lime green and navy blue
• favourite quotes "I don't have any heroes, they're all useless" -John Lydon,
Opinions
• Drugs/Alcohol Not for everyone. Not to be done in excess. But, as long as you're in control, party on!
• Stage Divers Eh.... I don't like the people that are idiots about it, that stage dive in a nearly empty venue. Do it a few times, it's cool, but make sure there are enough people to catch you and that they look like they can actually catch you!
• Government/G.W.B. I'm Canadian. We don't like him here. I don't like him. He's tryong to take over our air space for his missidle defence program. He thinks everything should belong to the US (Oil in Iraq, Canadian air space) and if he doesn't get what he wants, he just takes it. That's not cool. He's a scared little man that doesn't know what he's doing

The Usual Suspects
• promote
hella__scene in a journal and a community, dont forget the links. http://www.livejournal.com/community/___promowhore/33885.html?mode=reply, http://www.livejournal.com/users/2sexy4yourshirt/32214.html?view=124374#t124374
• 3+ clear pictures of yourself. including one 100X100 for members page.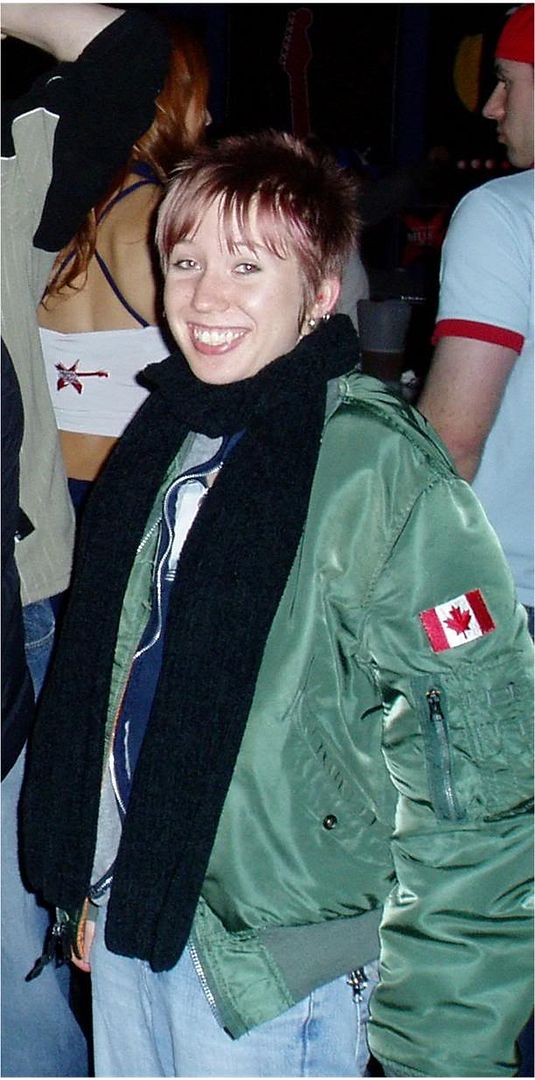 • why are you hella scene? Because I'm gettin' old. I'll be 21 this year. I've been in various scenes since I was 16-ish. Doesn't seem like a long time? No, you're probably right, but when all your friends are getting engaged and getting 'real' full-time jobs while you fuck around in University and still get excited about going to gigs, you KNOW it's been a while. And I don't plan on stopping any time soon!